In addition to disseminating and rewarding the talented related to music, the Grammys, through its Latin Grammy Cultural Foundationgrant scholarships to young talents in music.
On this occasion, more than 40 people will receive scholarships to help finance their education.
From the Prodigy Scholarship and Sofia Carson
This year, the Latin GRAMMY Cultural Foundation awarded the Sofia Carson Scholarship to vocalist and student Valentina García, 19, during a special performance with the artist in Miami.
The Prodigy Scholarship (Sofia Carson Scholarship), created eight years ago to support music education and Latin music genres, has a maximum value of $200,000 and will allow Garcia to pursue a bachelor's degree at Berklee College of Music in Boston beginning fall.
sophia carson has forged a path in music, film, television and philanthropy. She currently stars in the role of Cassie in the hit Netflix movie, Purple Hearts.
She is also an executive producer and one of the songwriters and singers on its soundtrack. Purple Hearts It was the most popular movie on Netflix internationally.
An award-winning, multi-platinum singer-songwriter, Carson's songs have been streamed more than 2 billion times online and her music has been consumed more than 8 billion times to date.
In addition, he reached number one on the Billboard Top 200 chart. He recently released a magnetic debut pop album on Hollywood Records.
Of the fellow and statements
The Venezuelan Valentina Garciawas selected by the Foundation Scholarship Committee from a highly competitive pool of hundreds of applicants from around the world.
Since its inception, the Latin GRAMMY Cultural Foundation has allocated an extraordinary sum of more than $7.6 million dollars to scholarships, grants, musical instruments, and educational events throughout the United States and Latin America.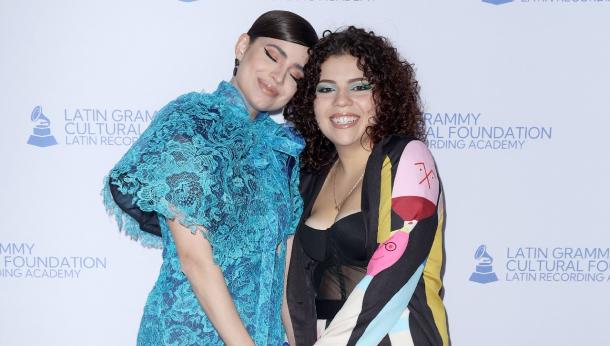 "We are honored by the quantity and quality of applications we receive for our scholarships. It is inspiring to see the large number of young people committed to their vocation of becoming future creators of Latin music", said Manuel Abud, CEO of the Latin Recording Academy.
"Together, Sofia Carson and the Latin GRAMMY Cultural Foundation have changed my life for the better. I will always be grateful for their generosity and the doors they have opened."Garcia said. "My career has just begun, and since I am witness to the impact that the Foundation has, that is precisely the reason why I have decided to dedicate myself to music, so that through it I can help others."
Of the scholarships awarded
The Foundation also announced the winners of the Talent Tuition Scholarships and Tuition Assistance Scholarships it awards annually, which will allow 43 talented students from diverse backgrounds to have the opportunity to study at some of the world's most prestigious music institutions.
Recipients of the Talent Scholarships for Enrollment:
Each of these three students will receive a Tuition Talent Scholarship, with a maximum value of $100,000 dollars over four years, for tuition at the university or institution of their choice: Ferrán Rico, electric bass player from Spain, Juan Camilo Doria, tenor saxophonist from Colombia and Alejo Villareal, electric bassist from Argentina.
The $100,000 donation to Juan Camilo Doria, the Nader Art Museum Scholarship, was sponsored by Gary Nader, an international art collector, philanthropist and art gallery owner.
Tuition Assistance Scholarship Recipients:
In addition, each of the next 40 students will receive a one-year Tuition Assistance Scholarship, worth up to $10,000, toward tuition at the university or institution of their choice.
Beneficiary

Country of origin

main instrument

Institution/University

Stephanie Acosta

Colombia

Voice

Berklee College of Music, Boston

Cynthia Aguilar

Venezuela

Voice

Longy School of Music of Bard College, Boston

Luis Anselmi

Venezuela

four venezuelan

Humber College, Canada

cobe isai
Salcido Band

Mexico

Guitar

Tecnologico de Monterrey, Mexico

Raphael Beck
d'Avila Mello

Brazil

Flute

Faculty and Conservatory Souza Lima, Brazil

Joaquin Bonilla

Ecuador

Flute

Chicago College of Performing Arts at Roosevelt University

Gabriel Braga

Brazil

Trombone

Faculty and Conservatory Souza Lima, Brazil

Sebastian Castillo

Panama

Piano

Berklee College of Music, Boston

Nicholas Castro Granados

Colombia

saxophone

Superior Conservatory of Music of Castilla y León, Salamanca, Spain

Lorenzo Curik

Argentina

Drums

Berklee College of Music, Boston

Arthur de Souza Lima Scarpini

Brazil

Guitar

Faculty and Conservatory Souza Lima, Brazil

Abner Felipe Dos Santos Martins

Brazil

Guitar

Faculty and Conservatory Souza Lima, Brazil

Marien Femerling Garcia

Mexico

Piano

Manhattan School of Music, New York

Jhoely Garay

Mexico

Guitar

Manhattan School of Music, New York

Francis Garrido

Venezuela

Guitar

Conservatorium van Amsterdam, Netherlands

Andres Guerra

Venezuela

Guitar

The New School, New York

Maximilian James

Colombia

Drums

Berklee College of Music, Boston

Damian Kompel

Argentina

Clarinet

Berklee College of Music, Boston

Marina Marchi Silveira

Brazil

Voice

Faculty and Conservatory Souza Lima, Brazil

Sebastian Marino

Puerto Rico

saxophone

Puerto Rico Conservatory of Music

Simon Martinez

Ecuador

Piano

Berklee College of Music, Boston

Octavio Mujica

USA

Cello

San Francisco Conservatory of Music

Marcelo Murillo

USA

Drums

University of Oregon

Andres Nali

Venezuela

Percussion

Berklee College of Music, Boston

Gabriel Nieves

Mexico

Flute

Conservatory of the Roses, Mexico

Rafael Nocedo Gonzalez

Cuba

Piano

Berklee College of Music, Boston

Daniel Oliver

Venezuela

Voice

Berklee College of Music, Boston

Andres Felipe Palacios Rhodes

Colombia

Guitar

Peabody Institute of the John Hopkins University, Baltimore

Joao Vitor Aredes Martins Paulo

Brazil

Drums

Faculty and Conservatory Souza Lima, Brazil

Kalebe Requena

Brazil

Trumpet

Faculty and Conservatory Souza Lima, Brazil

Oscar Rojas

Mexico

Piano

Berklee College of Music, Boston

isaac romagosa

Spain

Guitar

Berklee College of Music, Boston

Orlando Salazar

Venezuela

Oboe

Longy School of Music of Bard College, Boston

Juan Sebastian Sanchez

Colombia

Percussion

Berklee College of Music, Boston

Joao Semedo

Portugal

Vibraphone

Berklee College of Music, Boston

Kristalis Sotomayor

Puerto Rico

Flute

Boston Conservatory, Boston

Gustavo Tenes

Brazil

Electric bass

Faculty and Conservatory Souza Lima, Brazil

Angela Varo Moreno

Spain

Fiddle

Berklee College of Music, Boston

Ayin Villagra-Brown

Chili

Piano

The New School, New York

Marcus Vinicius de Oliveira Figueiredo da Silva

Brazil

Double bass

Royal Northern College of Music, England
We would love to thank the writer of this write-up for this awesome content

More than 40 scholarships awarded by the Latin Grammy Cultural Foundation to music students